Posted in
Computers
,
Websites
on March 28th, 2009 by Andy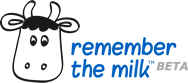 Remember the Milk is my new favourite thing. It's basically just a web-based to-do list service, but it's done really well.
I've got a lot on my plate right now, and have to plan my time fairly carefully.  RTM lets me add items in categories, give them priorities, link to online resources, etc. If that was all, it'd be pretty boring. Where RTM rocks out is the number of ways you can use it. I have a little RTM applet for Avant Window Navigator sitting in my dock permanently, and for when i'm at work or out and about I use the nifty RTM gadget for my iGoogle homepage. It also interfaces with Google Calendar. Nice!
If that's not your fancy there's also apps for iPhone/iPod Touch, Blackberry, Windows Mobile, Twitter, desktop widgets for OS X, plugins for IM clients and a ton of stuff i've never even heard of.
Basically, if you can't find a convenient way to use Remember the Milk, you're not trying. The basic version is totally gratis, too. Pay a bit extra and you get to sync it with your smartphone or PDA.
Tags:
organiser
,
remember-the-milk